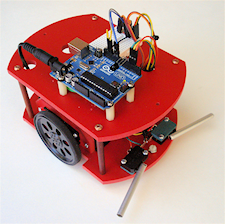 As seen in the February 2012 issue of Popular Mechanics Magazine!
Make your own super-affordable and super-expandable Arduino-based robot. Includes all body parts: top and bottom decks, servo mounts, and all hardware. Assembles in under 15 minutes.
Just add your own Arduino microcontroller, servos, wheels, and other electronics — stuff you may already have.
The double-decker Build Your First Robot measures 7" x 5", and is made of 1/4" expanded PVC plastic. Plenty of room to grow! Add sensors and other accessories in a flash.
Have fun while learning how to design, construct, and use small robots! This richly illustrated guide offers everything you need to know to construct sophisticated, fully autonomous robots that can be programmed from your computer.
Fully updated with the latest technologies and techniques, Robot Builder's Bonanza, Fourth Edition includes step-by-step plans that take you from building basic motorized platforms to giving the machine a brain--and teaching it to walk, talk, and obey commands.
Newly updated with Arduino, PICAXE, and numerous "latest and greatest" technologies. Over 700 pages, jam-packed with projects, ideas, know-how, and inspiration. "RBB" is the most widely read book on amateur robotics ever published, with hundreds of thousands of copies in print since the first edition in 1987.
We have a limited number of copies at a special discount price - get yours today!
More from Budget Robotics...
Hard-to-find construction hardware specially selected for robot building. Light-weight plastic angle brackets, and more!
Build your own bot! Use our pre-cut bases for your next robotics project. Save time and money. Choose size & color.